Main content starts here, tab to start navigating
Menus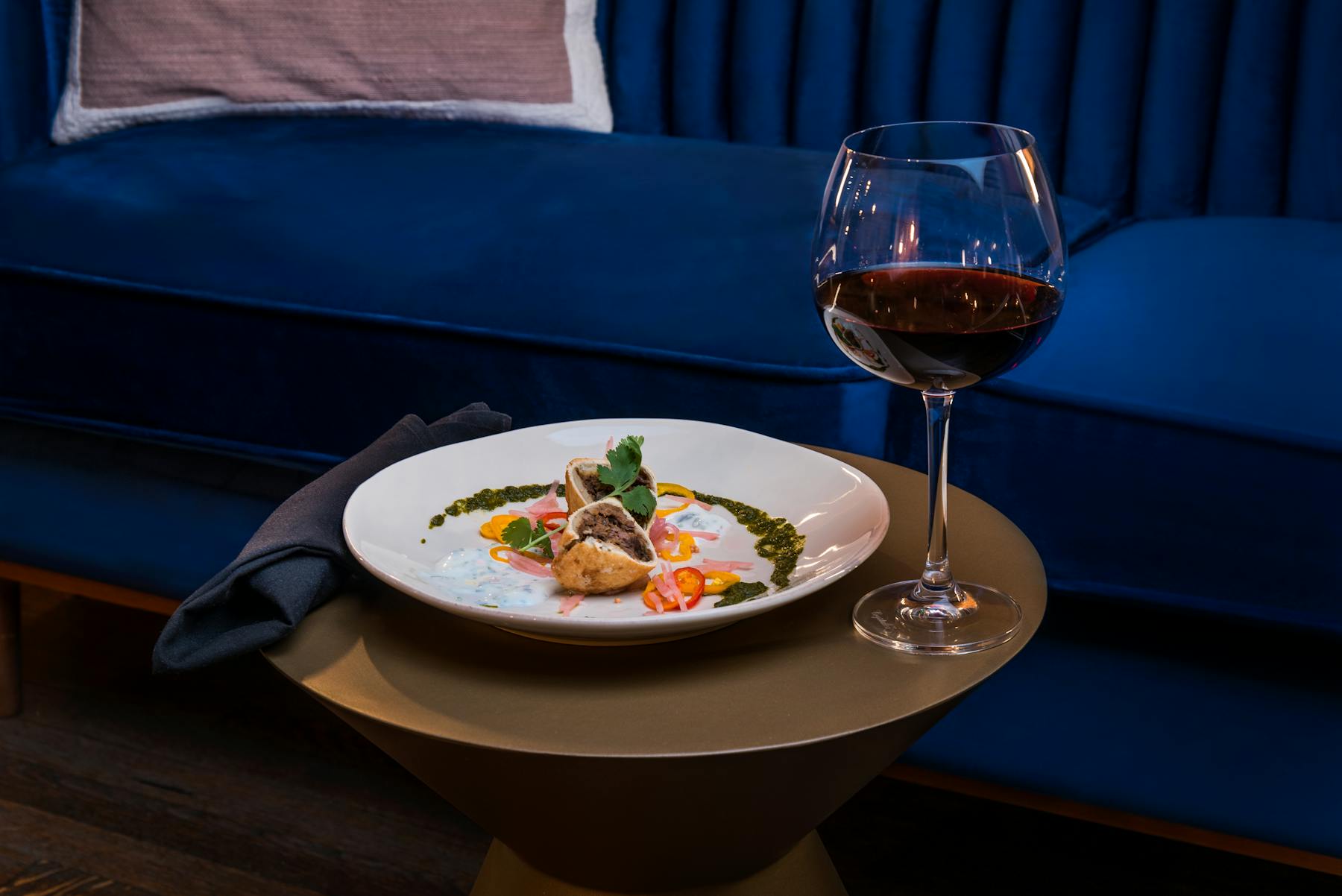 Slide 1 of 4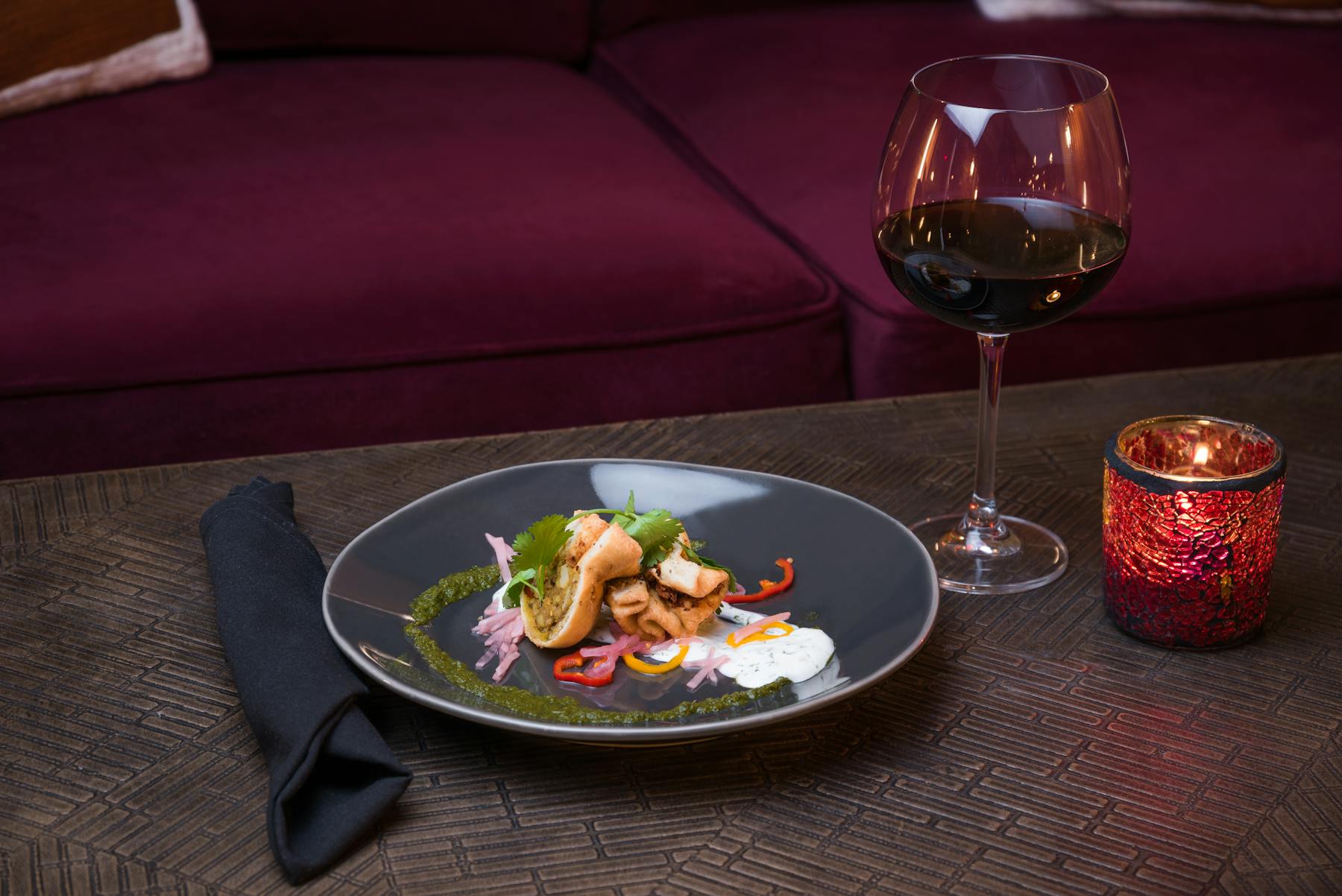 Slide 2 of 4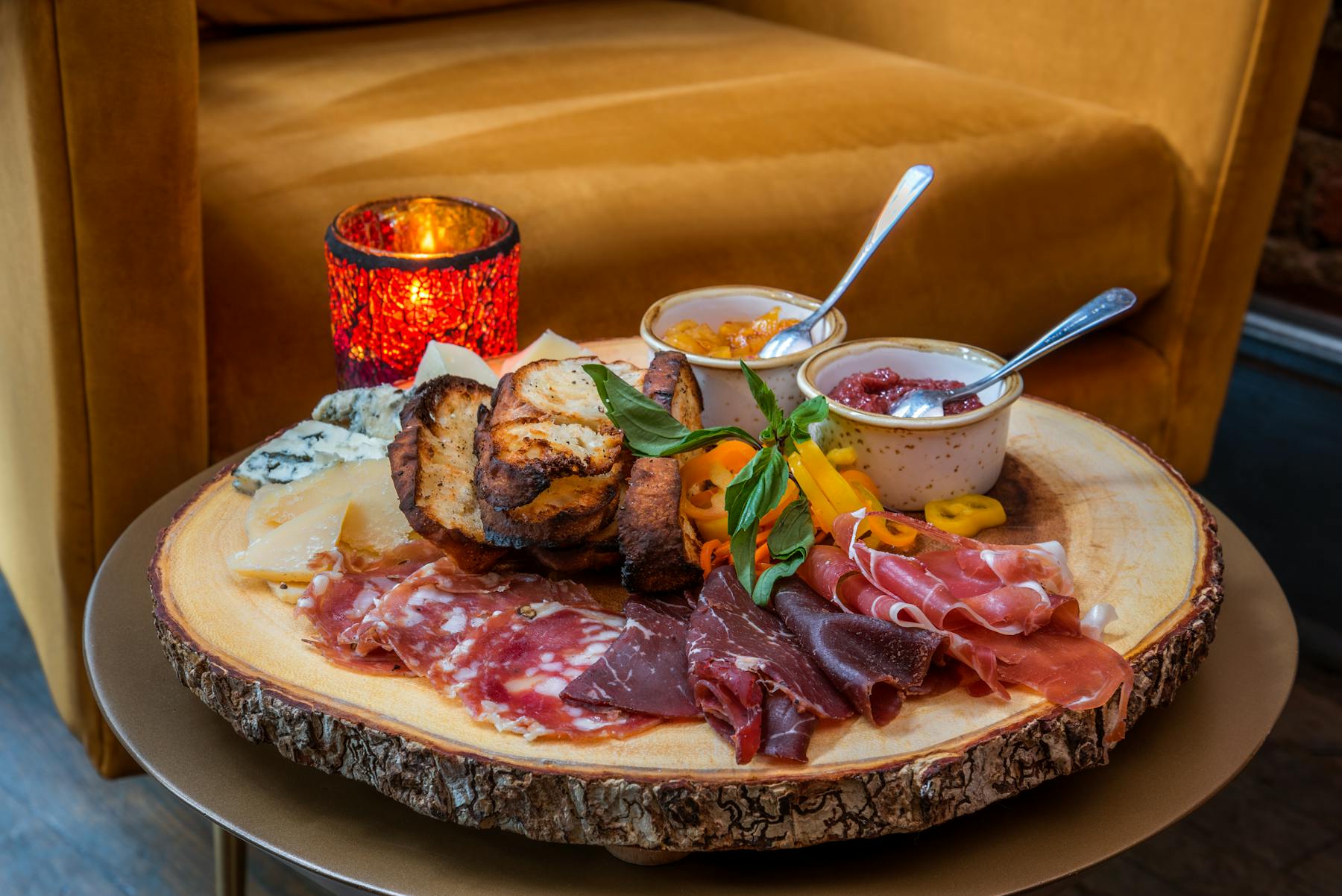 Slide 3 of 4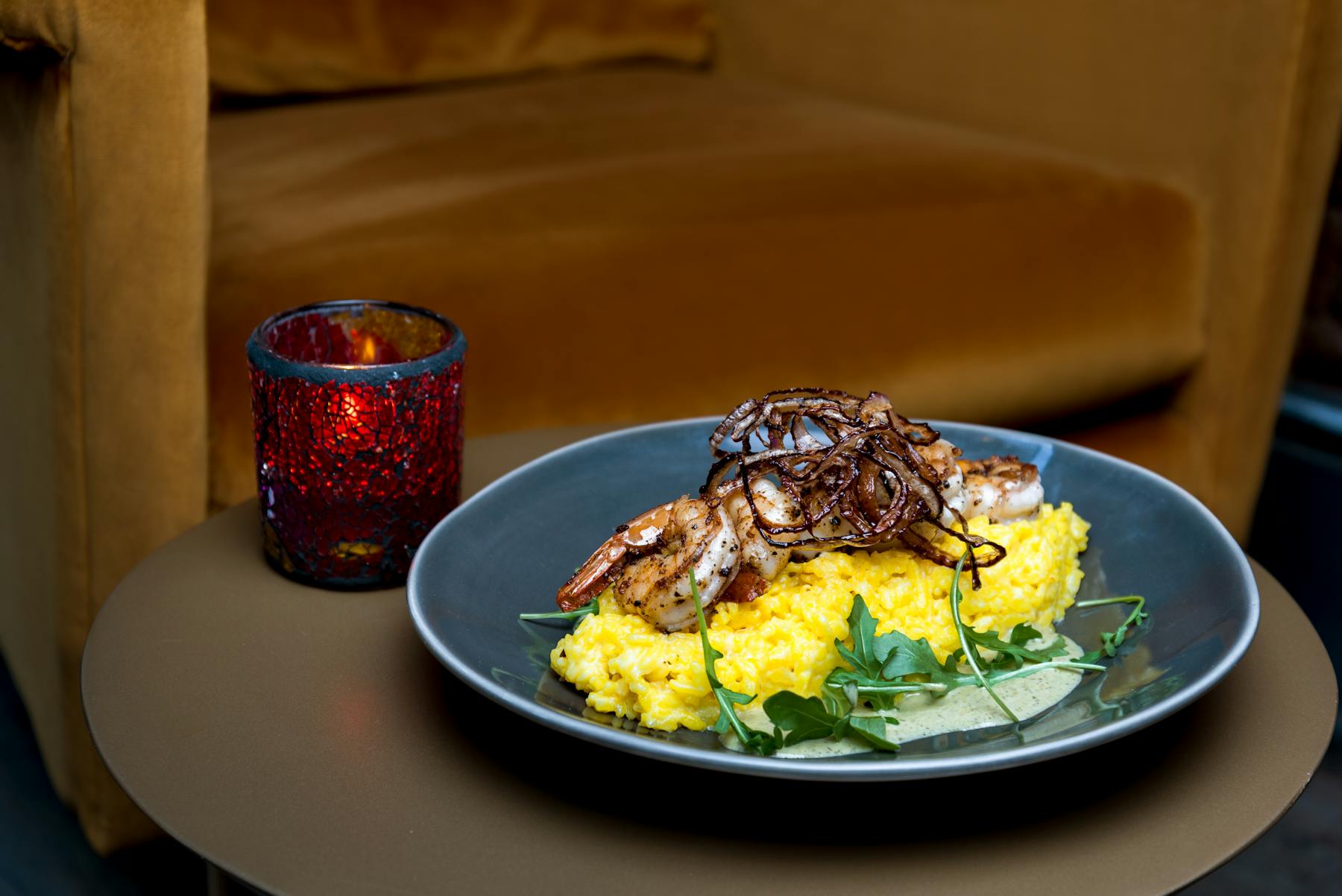 Slide 4 of 4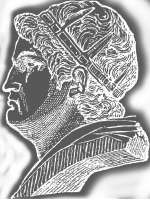 In Italy, lunch, or "pranzo," is regarded as the days most important meal. Here you can enjoy multiple courses as they would in the Old World, and end with coffee and sweets.
Antipasto
Watermelon Gazpacho

watermelon, tomato, jalapeno, lime, and ginger with spices and a mango salsa

$9

gluten free, vegetarian

The Emperor's Samosas

with ginger-garlic yogurt, cilantro mint chutney choose: spicy braised lamb or vegetarian with potato, peas, & chic peas

2 for $8

3 for $11

Julius Caesar

chopped romaine, preserved lemon, marinated artichokes, focaccia croutons, shaved parmesan and from scratch caesar dressing

small $7

large $10

add shrimp to your large caesar $6

add chicken to your large caesar $5

Baked Tomato and Buratta

whole roma tomato seasoned with EVOO, balsamic, garlic, and rosemary are baked & served with arugula, burrata, & crostini

$12

gluten free, vegetarian
Principale
Avocado Caprese Flatbread

Avocado toast gets an Italian-style upgrade by adding fresh mozzarella, tomato, pesto, & basil on a garlic parmesan flatbread. Served with homemade fries

$14

Veritus Panino

All of our cured Italian meats with fresh mozzarella, arugula pesto, garlic aioli, and pickled peppers on our focaccia and served with homemade fries

$15

Garlic Shrimp and Saffron Risotto

creamy saffron acquerello risotto, oregano, bra duro, lemon garlic shrimp, charred red onion

$18

gluten free

Seared Medi Tuna

lemon EVOO tuna, pan-roasted fennel, olives, blood orange, peppers, ginger garlic yogurt

$18
Pizza
24 hour dough ferment gives our crust some love. Fresh & whole milk mozzarella, EVOO, & San Marzano tomato sauce complete our pies.
Sides

small caesar salad, fried brussels sprouts, or parmesan truffle fries

each side $5

Individual 8"

margherita $10

specialty $12

Regular 12"

margherita $15

specialty $18
Specialty Pies
Classic margherita
Roasted apple, andouille, bra duro
Pork belly, mango, basil, cilantro, spicy tomato curry sauce
Cherries, cherry balsamic, prosciutto, arugula
Pepperoni, sausage, oregano
Truffled mushroom, toasted cauliflower, parmesan, roasted garlic cream
BYOP
Build Your Own Pie- All BYOP include your choice of sauce, fresh mozzarella, and shredded whole milk mozzarella. Add toppings as you like.
BYOP- individual

choose your sauce and toppings

$10

per topping $1

BYOP- Regular

choose your sauce and toppings

$15

per topping $2
Choose your sauce:
tomato sauce
curry tomato sauce
garlic parmesan cream
Choose your toppings:
apple
mango
cauliflower
cherries
pickled onion
pickled peppers
pork belly
andouille
artichokes
olives
mushrooms
pepperoni
sausage
prosciutto
bresaola
salami
Wild orgies fueled by a love for Bacchus, the wine god...an Olympic Gold medalist with an asterisk...Possessing a love for the arts and music exceeding that of all other Roman emperors...let the wine flow and the games begin... if it's a Tinder date, share a pizza and pretend that you care about your figure...if they are going straight to the friend zone, f#ck it, eat a whole pie cheese plate (V) cheese: sheep's milk toma, parmigiano reggiano, gorgonzola, taleggio $15 served with fig orange chutney and rosemary crostini charcuterie meat: prosciutto, bresaola, salami Toscano $15 served with mustard, crostini, & pickles cheese and charcuterie combo $24 Using high-quality ingredients, we have developed our own recipes, making everything from scratch.
watermelon gazpacho

watermelon, tomato, jalapeno, lime, and ginger with spices and a mango salsa

$9

gluten free, vegan

the emperor's samosas

spicy braised lamb, ginger garlic yogurt, cilantro mint chutney or vegetarian with potato, peas, chic peas

2 for $8

3 for $11

fried brussels sprouts

with black pepper & bra duro (Italian "white cheddar") atop roasted parsnip puree with toasted cauliflower

$9

vegetarian

baked tomato and buratta

whole roma tomato seasoned with EVOO, balsamic, garlic, and rosemary is baked & served with arugula, burrata, & crostini

$14

vegetarian

avocado caprese focaccia toast

Avocado toast gets an Italian-style upgrade by adding fresh mozzarella, tomato, pesto, & basil on focaccia. Served with homemade fries

$14

julius caesar

chopped romaine, preserved lemon, marinated artichokes, focaccia croutons, shaved parmesan and from scratch Caesar dressing....add shrimp

small $7

large $10

smoked salmon arugula salad

pine nuts, pickled red onion, parmesan, creamy lemon herb dressing, and smoked salmon

$16

garlic shrimp and saffron risotto

creamy saffron acquerello risotto, oregano, bra duro, lemon garlic shrimp, charred red onion

$19

gluten free
seared medi tuna

lemon EVOO tuna, pan-roasted fennel, olives, blood orange, peppers, ginger garlic yogurt

$19

tandoori pops

marinated, grilled & roasted chicken in tandoori seasonings paired with garlic ginger yogurt sauce

$16

gluten free

things you can dip

grilled naan & papadums with seasonal chutney, spiced lentils, roasted eggplant & pickle assortment

$12

vegan

fries

pizza style with basil, oregano, mozzarella, pepperoni & zesty tomato sauce $8

truffled parmesan with garlic ailoi (vegetarian) $8

cheese plate

sheep's milk toma, parmigiano reggiano, gorgonzola, taleggio served with fig orange chutney and rosemary crostini

$15

vegetarian

charcuterie

meat: prosciutto, bresaola, salami toscano served with mustard, crostini, & pickles

$15

Cheese and Charcuterie Combo

$24
Brews On Tap
Mustang Sally

Article 1 Amber Lager

16 oz $8

Port City

Optimal Wit

16 oz $8

Larry's Latest

16 oz $8

DC Brau

Corruption IPA

16 oz $8

Modelo

16 oz $7

Alewerks Tavern

Brown Ale

16 oz $8

Bells Two Hearted

16 oz $8

Hardywood VIPA

16 oz $8

Potters Farmhouse

Dry Cider

16 oz $8

Michelob Ultra

16 oz $8

Peroni

16 oz $8

Founders

All Day IPA

16 oz $8

OBH Graffiti

House IPA

16 oz $9

Port City Porter

16 oz $8

Maharaja

Double IPA

16 oz $10

Eggenberg Pils

16 oz $8

3 Stars Peppercorn Saison

16 oz $8

Dogfish Head

90 Min IPA

16 oz $9

Guinness

16 oz $9

Solace Partly

Cloudy IPA

16 oz $8
Brews In Bottles / Cans
Great Lakes

Commodore Perry

$6

Bell's Kalamazoo Stout

$6

Gouden Carolus

Cuvee Van de Keizer Blau

$11

Cuvee des Trolls

$11

Peche Mel

$11

Anxo National

Colonial Farm 500mL

$18
Cocktails
Prosecco Royale

Prosecco, cremé de cassis

$10

Pisco Sour

Pisco, egg white, lime

$12

Makin' Me Hard Cider

Spiced rum, cider, lime

$12

Moscow Mule

Vodka, ginger, lime, ginger beer

$12

Nero's Revenge

Mezcal, lime, flame

$15

Blood Smoke Old Fashioned

Bourbon, smoke, cherry, blood orange

$15

Michaelorangelo

Rye, blood orange syrup, Aperol, bitters

$14

Lavender French 75

Gin, lavender, lime

$12
Bourbon
Jack Daniels

$9

Maker's Mark

$10

Jameson

$10

Bulleit

$12

Buffalo Trace

$12

Monkey Shoulder

$12

Eagle Rare

$12

Heavens Door

$12

Jameson Black Barrel

$14

1792

$14

Blanton's

$14

Widow Jane

$14

Jefferson's

$14

Hudson

$14

Basil Hayden

$14

Woodford Reserve

$14
Rye
Sazerac

$11

Knob Creek

$11

Bulleit

$12

Whistle Pig

$14
Cognac
Remy Martin

$12

Hennessy

$14

Courvoisier

$14
Scotch
Glennfiddich

12yr

$13

Glennfiddich

14yr

$15

Glennfiddich

18yr

$20

Glennfiddich

21yr

$40

Macallan

12yr

$14

Macallan

15yr

$21

Balvanie

14yr peat week

$20

Highland Park

12yr

$14

Highland Park

18yr

$22

Oban

14yr

$16

Laphroaig

10yr

$13

Glenroth's

$12

Johnnie Walker Black

$13

Johnnie Blue

$35

Glenmorangie

10yr

$13
Bubbles
NV Montelliana

Prosecco, Treviso

$9

$38

2016 GD Vajra Rosé

Brut Nebbiolo, Piemonte, It

$60

NV Besserat De Bellefon

Brut, Champagne, Fr

Half $57

Full $73

2006 Besserat De Bellefon

Brut, Champagne, Fr

$140

2004 Dom Perignon

Brut, Champagne, Fr

$325
Whites
2017 B. Magrez Bleu De Mer

Rosé, Provence, Fr

$8

$36

2017 Mont Gravet

Cotes De Gascogne, Fr

$9

$36

2011 Sant'elena

Pinot Grigio, Friuli Isonzo, It

$9

$36

2015 Sant'elena

Chardonnay, Friuli Isonzo, It

$12

$45
Reds
2016 Prodigo Nero

D'avola, Sicily, It

$9

$39

2015 GD Vajra Langhe

Pinot Nero, Piemonte, It

$53
White on Tap
2oz | 3oz | 5oz | Bottle
Rosé
2018 Elizabeth Spencer Grenache Rose

Mendocino

$4

$6

$10

$40

2018 Pico Maccario Lavignone Rosata

Piemonte

$4

$6

$11

$43

2018 Stolpman Rose of Grenache

Santa Barbara

$4

$7

$13

$45
White
California
2016 PH CrossBarn Chardonnay

Sonoma Co

$4

$6

$10

$48

2016 Rombauer Chardonnay

Carneros

$6

$9

$16

$80

2017 Honig Sauvignon Blanc

$4

$6

$10

$41

France

2017 Rimbault Cuvee Prestige Sancerre

Loire Vly

$5

$7

$13

$54

2017 Chateau Haut Rian Blanc, Bordeaux

France

$4

$6

$9

$39

2016 Macon La Roche Chardonnay

Burgundy

$4

$6

$11

$43

2016 Ferraton Samorens

Cotes Du Rhone

$4

$6

$9

$36

2017 Mont Gravet

Cotes De Gascogne

$4

$6

$9

$36

Italy

2011 Sant'elena Pinot Grigio

Friuli Isonzo

$4

$6

$9

$36

2017 Inama Soave Classico

Verona

$4

$6

$9

$34

2015 Scubla Sauvignon Blanc

Friuli Isonzo

$5

$7

$11

$50

2017 Cascina Chicco Roero Arneis

Piemonte

$5

$7

$11

$54

2016 Talamonti Trebocchetto Pecorino

Abruzzo

$4

$6

$9

$37

2015 Conte Vistarino

Riesling Lombardy

$4

$6

$9

$38
Red
France
2013 Foncalieu "Le Lien" Syrah

Languedoc

$6

$8

$13

$50

2017 Le Versant Pinot Noir

Languedoc

$4

$6

$10

$40

2009 Claud La Chappelle Castillon

Bordeaux

$4

$6

$10

$42

2014 Crocus L'Atelier Malbec

Cahors

$4

$6

$11

$40

2016 St Cosme Cotes Du Rhone

Rhone Valley

$4

$6

$10

$48

Italy

2011 Cacciata Chianti Classico Riserva

Toscana

$6

$9

$15

$53

2016 Prodigo Nero D'avola

Sicily

$4

$6

$9

$39

2017 GD Vajra Dolcetto D'Alba

Piemonte

$4

$6

$10

$41

2016 Collosorbo Rosso di Montalcino

Toscana

$5

$7

$13

$54

2016 Cascina Chicco Nebbiolo

Piemonte

$5

$7

$13

$55

2016 Mormoraia Haurio Chianti

Toscana

$4

$6

$11

$44

1999 Oddero Fureste Cabernet

Piemonte

$8

$12

$18

$87

2014 Massolino Serralunga Barolo

Piemonte, It

$9

$13

$19

$95

2013 Fattoria dei Barbi Brunello

Toscana, It

$9

$13

$19

$95

1997 Terreno Chianti Classico

Riserva, Toscana

$10

$14

$21

$105

California

2016 Ridge East Bench Zinfandel

Dry Creek Vly

$6

$9

$14

$69

Virginia

2015 Linden Vineyards

Claret, Linden

$5

$7

$12

$54